Clare's Clutter Clearing Story
On Monday 25th January 1993 I got on a plane to travel to a little-known country called Guyana on the North Atlantic coast of South America with just a return ticket, my passport, plus 2 large bags full of my clothes, colouring books, and bicycle puncture repair kits.
I was going there for 5 months of my Gap Year to volunteer in a Mothers Union Day Care Centre, live with local families, and experience real life in a different culture before going off to university.
Little did I know, as I sat on that plane at Gatwick Airport with only the name of the bishop's wife and assurances in a letter that I would be met by someone at the airport and have a bed for the first night, that I'd fall in love with the country and return to Guyana every summer for the next 3 years.
I know it makes me sound old, but youngsters today couldn't imagine getting on a plane without a digital device to be able to stay constantly connected to others. I was going into the complete unknown, and it was a mixture of total fear and sheer excitement.
I remember that feeling of not having any idea where I was going or what the next 5 months held for me. My school friends had gone off together, travelling around Asia and they intended to party hard. That didn't appeal to me. I wanted to experience real life in a different culture and country. I suppose I wanted that experience of having to sink or swim. As the saying goes, you don't know where your comfort zone ends until you step outside it. I definitely did that!
Through a contact at my local church, I had written to the Bishop of Guyana's wife who was the President of the Mothers Union in Guyana, asking if there was any volunteer work I could do. I received a reply letter that the Mothers Union had a Day Care Centre for children in the capital city Georgetown that I could help at. They had one Day Care Centre and were hoping to open a second one once they could staff and stock it.
I thoroughly loved my time there with the children.
Little did I know that I would spend the next 3 years touring UK churches at weekends, giving talks about my experiences, and collecting donations.
It seems ironic now but as I look back, I lived with so few possessions when I was in Guyana, yet I had never felt so free.
I remember buying a Walkman and a Madonna cassette when I realised that although I loved Caribbean music, I also missed Western music. I also remember buying a pair of jeans in Guyana Stores Ltd on the High Street when I got tired of wearing shorts every day. They were a terrible fit. In Guyana it was cheaper and better quality to have your clothes made-to-measure rather than off the rail.
The following year I returned for the summer with lots of fabric from Liberty's, London to have dresses and a cocktail dress hand made for me for £5/$7 each. How ironic, given I never wore cocktail dresses!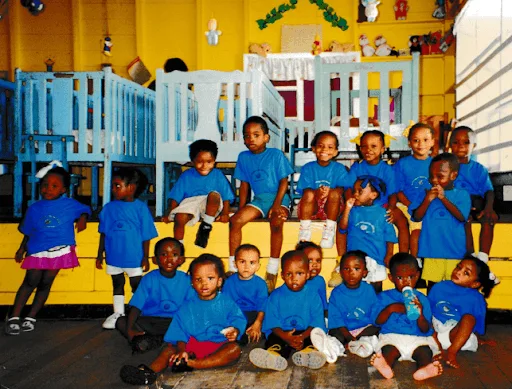 Within a month of arriving in Guyana I found myself in hospital for 2 weeks with food poisoning and malaria. I can still remember standing in the hospital hallway next to the only payphone, having discovered international reverse charge calls, speaking to my fraught parents who were trying to persuade me to medivac myself home to the UK. I told them no, I was having an amazing experience, I'd met some fantastic people, and it was 'only food poisoning and malaria!'
When I went up into the Amazon rainforest for a week with the Mothers Union worker to visit a parish that had a British priest who had been there for decades, I took just a ruck sack. My treat while there was to buy a bottle of coke-a-cola at the only store in the village. I swam in piranha infested waters in the dark. Apparently, they only bite if you have an open wound – or did they just tell me that to get me in the water?!
Feeling Free
Guyana was only just starting to develop their eco-Tourist industry back in 1993 and they weren't used to tourists. Consequently, Guyana was a time of experiences and memories for me, not 'stuff', which became a useful reference point for me when, years later, I was clearing my clutter. I remembered that it was the memories that made me happy, not 'stuff'.
Guyana was probably the first time I really felt free from the pressures and expectations of others. I experienced first-hand what being the minority really means and feels like. I felt the guilt that Guyana was a former British colony, and we hadn't treated them fairly. I learnt how important it is to listen, learn, and respect the fact that people's different perspectives and experiences are important.
The Plan
I was 'supposed' to just go to Guyana for 5 months, have an experience, then go off to university and move on with my life.
But the country and the people drew me back every summer for 3 years. When back in the UK I visited churches that were twinned with churches in Guyana. I talked about life in Guyana and collected donations of toys and money for the Day Care Centres so the second one could open. I even did my university degree dissertation on the health system in Guyana using my contacts at the hospital I had stayed in.
Guyana was such a huge and special chapter of my life. There were highs and lows with every trip I made out there, and it spans 3 years on my LIFE Timeline – or 13% of my life at the time. Yet it's surprising that I don't need lots of physical things in my home now to trigger the memories.
25th January this year was the 30th anniversary of me getting on that plane at Gatwick Airport, and 30 years since I faced a fear and did it anyway – an experience in my past that acted as a reminder that fear doesn't always lead to failure, negative experiences, or regret – something that would help me later in life when I was clearing my clutter.
Guyana is also a chapter of my life that came to its natural end as my life inevitably moved on – again, a valuable reference point as I dealt with my clutter.
I will always have my memories of my time in Guyana, and I hope one day to return there to share them with my husband, proving that it's the people and memories of our past that really matter, not the souvenirs or 'stuff'.If you want to clear your clutter forever without an expensive home visit, the only way to do that is with the Clutter Clearing 7 Step Journey. Find out more here: https://www.clutterclearing.net/7-step-journey/