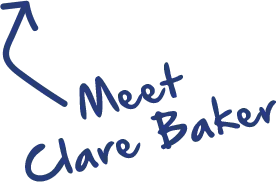 No hidden travel cost or minimum charge
One off cost or manageable monthly memberships
No pressure to blitz it as quickly as possible
HELPING ANYONE ANYWHERE IN THE WORLD
A little and often so you can break habits you have and create new habits that will ensure you become, and stay, Clutter Free Forever.
No fear that you won't get it all done in a day.
No stress from having a stranger in your home, seeing your clutter.
No anxiety that they're going to make you 'get rid' of things fast.
Go at a speed that's comfortable for you.
Do as much or as little as often as is comfortable for YOU.
BOOK A FREE 30 MINUTE ZOOM CALL WITH

CLARE
Join me, Clare Baker, a former clutterholic and borderline hoarder as I guide you through the 7 steps that will take you from Cluttered to Clutter Free - FOREVER.
Founded for YOU in 2001 by a former clutterholic and borderline hoarder, if you:
GET MOTIVATED

BY JOINING OUR WORLDWIDE ONLINE COMMUNITY
GET STARTED

WITH AN INTRODUCTORY DIY WORKSHOPS
CLEAR ALL YOUR CUTTER FOREVER

WITH THE 7 STEP JOURNEY
FREE

ONLINE ADVANCE CENTRE
BOOK A FREE

30 MINUTE 'NEXT STEPS' ZOOM CALL WITH CLARE
GET CLARE'S ADVICE ABOUT WHAT HELP IS BEST FOR YOU

Get Clare's INSTANT advice about how best to start YOUR journey to a Clutter Free home and life based on your personal circumstances by answering 10 simple questions in Clare's Help Centre