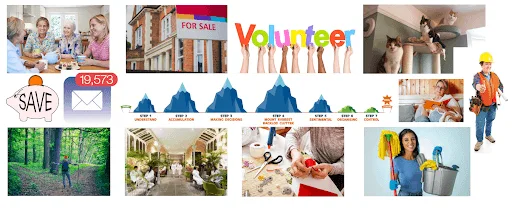 MOTIVATIONAL MOOD BOARD
When we're on our Clutter Clearing Journey, we all need to have a motivational toolbox that contains a range of tools to help us get through the bad days and tough weeks we ALL have when we're Clearing our Clutter.
What Is a Motivational Mood Board?
It is simply a collection of visual representations / images that trigger a strong, positive emotional response that will help motivate us to make time to work towards achieving a specific goal.
Visual representations not only 'speak a thousand words', but they are also more powerful at triggering an emotional response, which has been scientifically proven to be more powerful at motivating us than just words.
The visual image
is a kind of tripwire for the emotions.
Diane Ackerman
Motivational Mood Boards help us focus on our short-term goals and our future successes so we are clear about the benefits that clearing our clutter will bring. They also trigger the emotions we need to connect us to those goals and our Clutter Free future.
Many people resist creating a Motivational Mood Board because they struggle to believe they can succeed. However, it's important that the first one only has visual representations of the next small, manageable, bitesize goal, actions, and rewards that we're focusing on in the short term, to help us build that belief and confidence that we can succeed. It also enables us to update them regularly with the next goal, actions and rewards which maintains our motivation.
What A Motivational Mood Board Is NOT
non-specific, general things that we like the look of or want to buy
images of goals, actions or rewards that are beyond our control or sphere of influence
Pinterest, Instagram or Motivational Sayings that don't link to our goals.
3 Easy Steps to Make Your Motivational Mood Board
Make a note of your next short term goal, the actions you need to achieve it, and the rewards you'll give yourself when you succeed.
Your Goal is what you want your next significant success to be
Your Actions are what you need to do every week during term time to achieve that goal
Your Rewards are what experiences you will give yourself to acknowledge your success when you achieve your goal
Do NOT make them time specific with deadlines as that sends us to the panic zone. If you CONSCIOUSLY look at them daily, after a while your subconscious brain will work out how to make them a reality.

Goals
Actions
Rewards
To complete Step 1 of my Journey
e.g.
To make time in my weekly planner to do my Journey videos for 2 hours a day, 5 days a week
EXPERIENCE rewards not physical rewards
e.g
A Spa Day / Weekend Family day out
Search on Google or find photos you already have that visually represent those specific goals, actions and rewards and – most importantly – trigger a strong, positive emotional response in you.
If you are on your Clutter Clearing Journey you can turn some of the words and phrases you capture on Step 1 to describe your Clutter Free Goal into a Motivational Mood Board to help you.
Goals
Actions
Rewards
To complete Step 1 of my Journey

e.g.
To make time on my weekly planner to do my Journey videos for 2 hours a day, 5 days a week
A Spa Day / Weekend
Collate the images so they are in an easily visible and frequently seen place e.g:

digital photoframes with the scrolling images
create a collage of them as a screensaver
turn into a photobook that you can have on your nightstand and look through every night before or after you do your success / gratitude Journal
turn them into a personalised fleece blanket!
On your fridge
Once you have achieved your first goal and built your belief that you can succeed, subsequent Motivational Mood Boards can include both short and longer term goals, actions and rewards.
It's important to make sure you CONSCIOUSLY look at your Motivational Mood Board every day to 'FEED' your subconscious mind what you want, so that your Pre-Frontal Cortex can figure out how to successfully achieve it. YOU don't need to figure it out – let your subconscious brain do that for you.