Clare's Clutter Clearing Story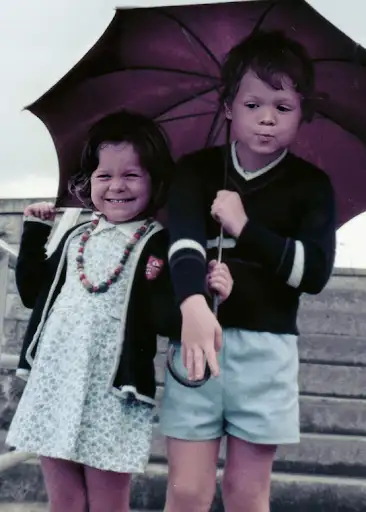 It's ironic that on the day the last edition of the Chronicle arrived from the printers, in which I wrote about my family relationship clutter and my estrangement from my parents, my big brother passed away from an aggressive melanoma cancer that took him in just 9 months.
I hadn't been told he was ill. I wasn't told he was dying. My father told me he'd died by forwarding me a round robin e-mail the day after he passed.
The minute I picked up that e-mail, 2 hours after it was sent (because I protect my time by only checking my e-mails 3 times a day), I jumped in the car with my husband and made the 1½ hour journey to my parent's house to find out what had happened.
I had chosen not to have my parents in my life, but my brother was still very much a part of my life.
My parents told me that Simon had sent me an e-mail telling me about his illness when he was diagnosed 2 days before Christmas last year. I never got that e-mail, although its existence is now in question. I was also told that Simon was adamant I wasn't to be told.
I didn't go to Simon's funeral because it didn't feel appropriate under the circumstances, but I got to say a private goodbye at the funeral home.
The last time I saw Simon was before Covid. We met up twice a year around our birthdays. Like me, Simon struggled with clutter. Physical clutter, weight clutter and relationship clutter with my parents stemming from being sent to boarding school at the age of 7. Like me he had no emotional bond with our parents.
As a result of our family dynamics, family history, unresolved issues, grief and trauma from his past, Simon surrounded himself with 'stuff' to feel safe and secure. Like me he also formed an emotional bond to food and struggled with his weight throughout his life. Like many clutterholics and hoarders, he never reached the point of wanting to face and deal with his clutter – a fact my parents struggled to accept.
Our family played out the classic clutterholic family cycle. For my brother and I our physical clutter and emotional eating were coping mechanisms. For our parents they were problems that needed to be dealt with as quickly as possible – forget about understanding and dealing with the WHY.
I don't blame my parents for that. I see and hear the frustration of lots of family members who want to 'help' their cluttered loved one and find it hard to accept that their loved one has to be prepared to go to some uncomfortable places in their past and accept and deal with past traumas they've avoided for years. They have to be willing to put in the time, energy and effort.
Building a Bond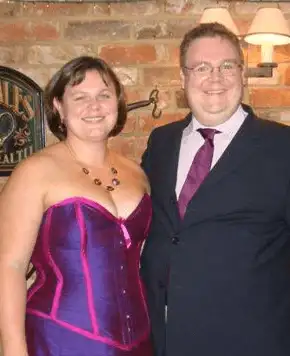 As we moved into adulthood my brother and I started to build a bond. I no longer referred to 'my parents' rather than 'our parents' – a habit that had started when my parents and I went to visit him at his boarding school. I was only 5 when he left the family home, so my sense of Object Permanence with him was weak. I didn't really understand why my brother kept disappearing for weeks on end, so best not to get attached.
Simon and I often talked about our family clutter challenges. Discovering the Clutter Clearing Journey and creating the LIFE Timeline had enabled me to 'see' some of the traumas that we'd both experienced in childhood. He didn't want to clear his clutter, but I like to think he benefited from the learning, understanding and awareness I shared with him from my own Journey.
Our bond was strongest when he gave me away at my wedding. That's when I knew my brother had become the big, protective, older brother I'd always wanted. He showed such courage to be there by my side, and I couldn't have been prouder.
Indeed, he told me that my getting married and living my best life inspired him to meet and marry someone who he had 9 happy years with before his death. I'm glad she was by his bedside in the hospice when he died.
Covid
When Covid hit we couldn't meet up, and as he had always been someone who avoided speaking on the phone, our contact became only e-mails and text messages. His wife is classed as vulnerable, so meeting up wasn't easy.
In his birthday e-mail to me in 2020 he told me he was struggling with his mental health – he was diagnosed with manic depression 30 years ago after 2 suicide attempts.
Whenever Simon was struggling with his mental health, I always gave him the space he needed. 30 years of living with his highs and lows had taught me to respect the way he managed it to ensure he prevented another episode. I never pushed or pressurised him. I always knew he would get back in touch when he felt up to it. This time he never did. I thought he just needed more time. If only I'd known….
Friends of the family have been telling me what actually went on over the 9 months of my brother's life, and their version of events is very different to my parents' version. Friends are surprised I'm not angry and desperate to find out the 'truth'. Why do I seem so accepting of what's happened?
Because we all have a choice in how we react to things, and I choose not to get drawn into the drama of the past. BCC (Before Clutter Clearing) I would have over-analysed and searched for the truth'. Yet ironically my brothers passing has made me realise how important and valuable all the learning, accepting and letting go techniques that I've learnt over the past 20 years are to my present and future.
I'm not angry because I learnt from clearing my clutter that there is no one 'truth' to find. We all have a different perspective and version of the same 'truth' of any given situation or experience. Finding a version of the truth that I choose to accept won't change the past.
Holding on to anger
is like drinking poison
and hoping the other person will die
Letting Go
Letting go of the anger is the only thing we can control amid the grief. It can give us the freedom we need to move on with grieving, so we're not stuck in the past.
Letting go of the anger and dealing with the trauma of how I found out doesn't mean I didn't love my brother. It signifies my desire to focus on my positive memories of him into my future, as I learn to live without him in my present.
Getting involved in drama is a choice, and I am choosing not to let the trauma of the past become a pointless drama in my present. Wherever my brother is now, he knows the truth, and what really matters are my memories of him.
If you're ready to learn how to let go and you want to know how Clare can help you do that, visit her free online help centre now: https://www.clutterclearing.net/clares-help-centre/